We're Getting Mutants in the MCU - The Loop
Play Sound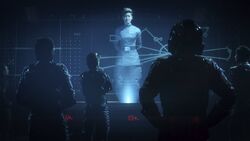 Below is a list of frequently asked questions (FAQs) regarding Star Wars: Squadrons. Many questions and their answers have been collected from the official Discord server for Squadrons, where community managers such as Jay Ingram frequently visit and respond to messages about the game.
Release
[
]
When is the game being released?
[
]
October 2, 2020.
Will there be a collector's edition?
[
]
No.
Is there pre-order bonus content?
[
]
Yes. The pre-order bonus content includes exclusive customization options for your pilot and starfighter for both the New Republic and Galactic Empire.[1]
Will there be a pre-download?
[
]
Yes, it is available starting September 28, 2020.[2]
Supported Platforms and Crossplay
[
]
What platforms are supported?
[
]
PC, Xbox One, and PS4.
Will VR be supported?
[
]
Yes, on both PC and PS4. You can play the game entirely in VR!
What point-of-views (POVs) are supported?
[
]
The game is entirely in first-person.  The only third-person is spectator mode.
Does the game support cross-play across platforms?
[
]
Yes.
Can you invite someone to your party from another platform?
[
]
Yes.[3] You can have a party with people from different platforms.
Does the game support voice chat?
[
]
Yes, even cross-platform.[4]
Technical Questions
[
]
What input methods will be supported on PC?
[
]
Keyboard/mouse, hands on throttle-and-stick (HOTAS), and controller.
Is TrackIR supported on PC?
[
]
TrackIR is currently not supported. [5]
What input methods will be supported on consoles?
[
]
Controller and HOTAS.[6][7] HOTAS support will be added in a patch that will drop on the day of release.[7]
Game Modes
[
]
What are the game modes?
[
]
There are three game modes: the singleplayer campaign and two multiplayer modes: Dogfight and Fleet Battles.
What do you do in Dogfight?
[
]
In Dogfight, your team tries to defeat as many starfighters as they can; the enemy team will be doing the same. Whichever side reaches the elimination goal first, or has the most kills by the time the match timer runs out, wins.[8]
What do you do in Fleet Battles?
[
]
In Fleet Battles, you work with your team to destroy the enemy's flagship. There are three stages that you must complete.
Is there a ranked mode?
[
]
Yes, Fleet Battles is ranked.[9]
How many players can there be in the multiplayer modes?
[
]
Every mode is 5v5.
Campaign and Lore
[
]
What time in the Star Wars lore is the singleplayer campaign based?

[

]
It starts right after the first Death Star has destroyed Alderaan in A New Hope. Most of the campaign is after the Battle of Endor (post-Return of the Jedi).
Do you fight for the Rebels or the Empire in the campaign?
[
]
You fight for both factions. You have a character for the New Republic (formerly the Rebel Alliance) and a character for the Galactic Empire and you switch between them depending on the mission. This way, you experience the story from both the "bad guy" and "good guy" perspectives.
Can you customize your campaign character?
[
]
Yes. You can change their appearance as well as their name.
Customization
[
]
Is there ship customization?
[
]
Yes. You can customize the abilities of your ship has as well as how your ship looks.
What type of visual customization is available for your ship?
[
]
You can customize the exterior of your ship and you can also customize the inside of the cockpit with small trinkets and bobble-heads. Visual ship customization is available for both factions.
Can you customize your pilot's visual appearance?
[
]
Yes. You can do this anytime that you are not in a multiplayer match. Additionally, your pilot's appearance in the campaign can be customized.
Are some customization options locked behind microtransactions?
[
]
No, all customization options can be unlocked through gameplay and/or playtime.[10]
Can you change your pilot's name?
[
]
Yes.
Gameplay
[
]
What types of ships do the AI fly?
[
]
All of the ships: Fighter, Bomber, Interceptor, and Support.
Can I side with a specific faction (New Republic or Galactic Empire)?
[
]
You can select a faction to prioritize when you look for a match in multiplayer, but it is unlikely you'll be able to exclusively play as one faction.[11]
In Fleet Battles, can you go straight to the enemy flagship and try to destroy it?
[
]
Yes, but the flagship is heavily armed and you won't have support from your AI fighters, making it difficult to do so.[12]
Do the capital ships move around during Fleet Battles?
[
]
Yes.[13]
How is my initial rank in Fleet Battles determined?
[
]
Your initial rank will be determined through a series of placement matches.
References
[
]