WELCOME, PILOTS!
Welcome to the Star Wars: Squadrons Wiki, the premier source for everything Star Wars: Squadrons! We currently maintain 163 pages.
About the game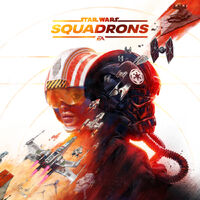 Star Wars: Squadrons is an upcoming Star Wars action-adventure and flight simulator video game being developed by Motive Studios and published by Electronic Arts that puts players in the cockpits of various Star Wars starfighters as the New Republic and Galactic Empire fight for control over the galaxy. The game features a singeplayer story as well as team-based multiplayer modes. It has a current release date of October 2, 2020 for PlayStation 4, Xbox One, PC, and virtual reality on PlayStation 4 and PC.
Want to learn more? Check out our FAQ for answers to some commonly asked questions about the game!
WIKI DISCORD
You are invited to join the Star Wars: Squadrons Wiki's Discord server, where wiki contributors can chat in real-time and become familiar with ongoing efforts to improve the wiki. Join it here: https://discord.gg/Tn8TXK3