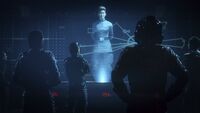 Star Wars: Squadrons features a single-player story in which players jump into the cockpits of pilots from the New Republic and Galactic Empire.[1]
The game's story takes place after the events of Return of the Jedi, with a prologue set during A New Hope, and alternates between the perspectives of a pilot in the New Republic and the Galactic Empire ("Vanguard Five" and "Titan Three", respectively). The story features several new characters as well as cameos from known Star Wars characters.[1] Additionally, the two pilots followed in the story are customizable.[2]
In addition, two exclusive stories on the Squadrons Website are available.
TBA
Community content is available under
CC-BY-SA
unless otherwise noted.